Interesting Information & Technical Tips and Links
Chainsaw & Pole Saw Courses no longer able to be squeezed into 1 training day: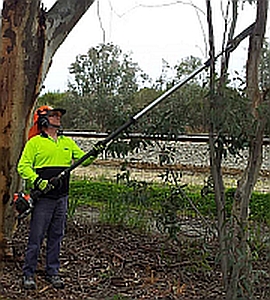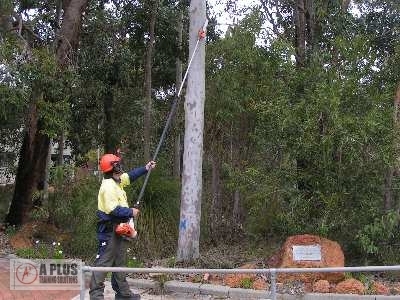 Until recently, we were able to just squeeze Chainsaw and Pole Saw courses into one very full 1 day course package.
Earlier this year the AQF updated all chainsaw related units of competency.
As we have transitioned to these new updated units we have had to review of all our chainsaw related course including this course combination.
Changes to these unit code requirements, have tipped the scales on these course requirements making it extremely difficult (even with our very small class sizes) to adequately cover all the new requirements for the units within the one day course for all but the most experienced of students.
For this reason, to ensure the integrity of our courses we have ceased offering this as a standard 1 day combination for initial chainsaw courses (contact us to discuss refresher chainsaw courses for your staff). They will now be offered as per the course structure below.
Basic Chainsaw Safety and Maintenance Course (initial): 1 day:
Dedicating the full day to our basic chainsaw training course (Units AHCMOM213 & FWPCOT2238)
Pole Saw Course: 1/2 day:.
Comprehensive FWPCOT3238 Operate a Pole Saw course as a stand-alone 1/2 day course
Combined Pole Saw & Tree Pruning Course: 1 day.
A comprehensive, full day course FWPCOT3238 & AHCPGD203.
These 2 units are a fantastic fit as they are both heavily based on Australian Standard: AS 4373 - 2007 Pruning Amenity Trees.
Trainees will be trained in correct operation and maintenance of pruning tools including pole saws. They will get an opportunity to try out and compare current (petrol powered) and the latest (battery powered) pole saw technology.
Trainees will learn about tree biology and how correct targeted pruning cuts can make a huge difference to a tree's long term health and safety. They will also learn about formative pruning of young trees to achieve strong healthy trees for the long term safety and benefit of the environment.
Advanced Chainsaw Course: 2 days
For those who want a really comprehensive chainsaw training course for their operational staff, we have also now reintroduced our 2 day, advanced chainsaw course which includes 5 x chainsaw related unit codes (AHCMOM213, FWPCOT2237, FWPCOT2238, FWPCOT2239 & FWPCOT3238)
Contact us for details of this awesome course!
Chainsaw and its related training is our passion and as such we are determined to continue to deliver courses of the highest quality to our clients.
Please feel free to contact me by email or phone if you would like to discuss dates or any other aspect of our training.
Western Power Work Practice Manual Specified Chainsaw Unit of Competency
AHCARB205A Operate and Maintain Chainsaws has now been replaced by new unit: AHCMOM213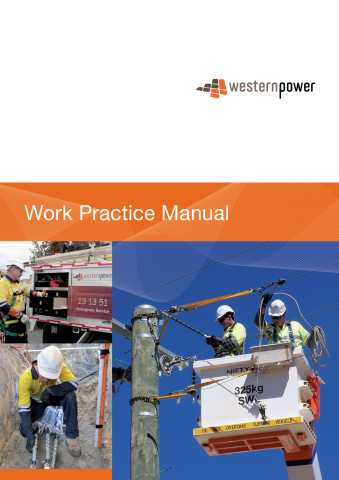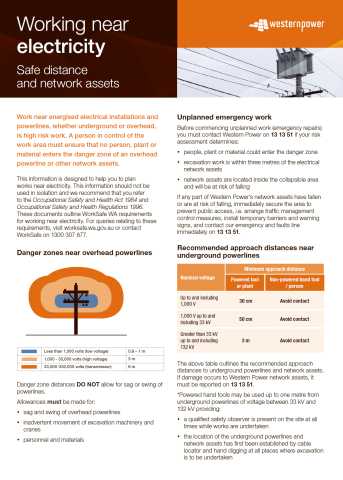 Western Power's Work Practice Manual stated that
"Vegetation workers must hold the following chainsaw training unit in order to work on or near Western Power network: AHCMOM213 Operate and maintain chainsaws (replaces AHCARB205A)"
The Solution
We have this unit integrated into our regular chainsaw course.
Our chainsaw course unit structure now looks like this:
AQF Units of Competency:
AHCMOM213 Operate and Maintain Chainsaws
(Replaces AHCARB205A)
(For those working on or near Western Power infrastructure, I have also put a link to their
Working Near Power Lines
Brochure)
FWPCOT2238 Cut Materials With a Hand Held Chainsaw
(Replaces FPICOT2238A)
(For those operators who will undertake simpler cuts on materials which will always be set up in a stable position.)
Check our
Available Training Courses
or
Weekly Chainsaw Courses
for dates and a course outline or drop me an email to make an enquiry or booking.
Unique Student Identifier (USI)
January 1st 2015 saw the
Department of Industry's
mandatory introduce their
Unique Student Identifier ( USI ) Code / Number
.
What is a USI?
The Unique Student Identifier ( USI ) is a 10 digit reference code which will be issued on application (to anyone who lives in Australia). The system will capture and link all training record data post 1st January 2015 and over time will build a record of all training data for that person. You only need to get it once and it is free. For more information take a moment to view this quick video.
Watch USI Video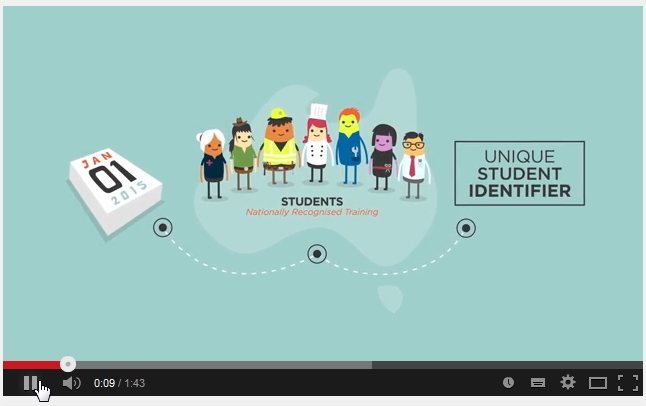 What does it mean to me?
Now
all
students enrolling or completing Nationally Accredited Training will require their own USI.
All training providers (even short course providers like us) will need to verify all students USIs before being able to issue any nationally recognised Qualifications or Statements of Attainment.
How to get one?
The best time for a course participant to get their own USI would be prior to attending their first training course after 1st January 2015.
You will need to make sure you have one form of ID from the list below ready.
Examples of acceptable forms of ID:
Driver's Licence
Medicare Card
Australian Passport
Visa (with Non-Australian Passport) for international students
Birth Certificate (Australian) *please note a Birth Certificate extract is not sufficient
Certificate Of Registration By Descent
Citizenship Certificate
ImmiCard
To assist you with this process, we have included a link to the Department of Industry USI website
Create Your USI Website
Follow this link to set up your own USI and once you have it keep it safe............ don't lose it!!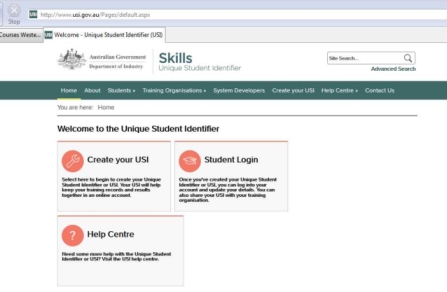 WorkSafe WA Safety and health alert 61/99 Employee dies in wood chipper accident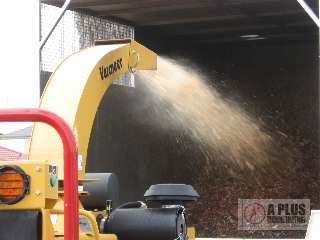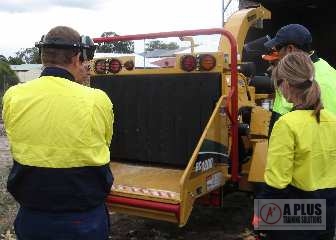 In a tragic incident in WA,
"A 16-year-old casual employee received fatal injuries when the in-feed rollers of a mobile trailer-mounted wood chipper drew him into the machine."
This prompted WorkSafe WA to issue a Safety Alert outlining the hazards associated with the use of mobile chipper / mulchers. In their alert WorkSafe have made a number of recommendation for these machines.
Recommendations:
Among other things, in their alert WorkSafe say "
It is necessary to provide a safe system of work and to comply with the appropriate safeguarding of machinery standards. General safety principles must be observed including:
Develop written work procedures based on a safe system of work and the manufacturer's recommendations for the particular machine.
It is imperative that operators are competent through adequate training, instruction and appropriate supervision prior to and when using the machine."
A Plus Training offers this course to AQF Unit of Competency FWPHAR2206 (replaces FPIHAR2206B) to cover the specific hazards associated with these machines.
Check out our course outline
(Operate Mobile Chipper / Mulcher Course)
Work Cover NSW Hand Held Cutting Saw SAFETY ALERT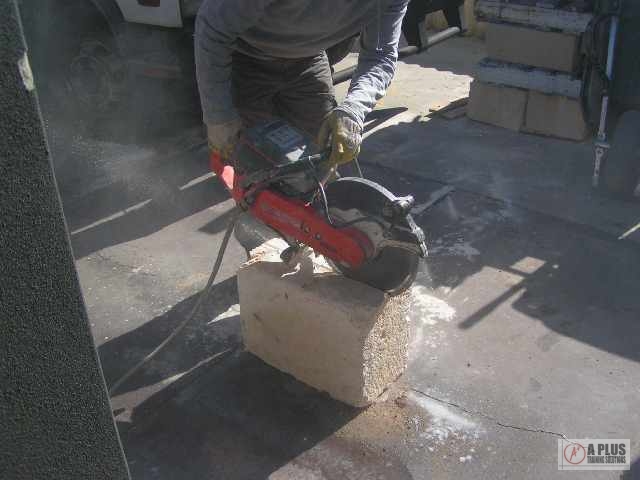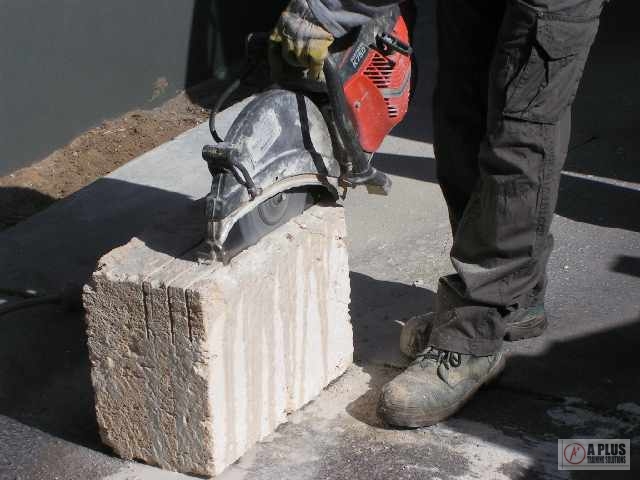 In a recent incident in NSW,
"a worker was severely injured when he lost control of a hand-held concrete saw, resulting in it striking him on the shoulder and cutting his neck."
This prompted WorkCover NSW to issue a Safety Alert outlining the hazards associated with the use of hand held cutting saws (particularly when used to cut concrete). In their alert WorkCover say that when a hand-held saw is rotating, reactive forces can occur causing the operator to lose control of the saw resulting in the possibility of serious or fatal injuries......
Action Required:
WorksCover states
....."Operators must be given training and instruction on the safe use of hand-held concrete saws" There are some simple ways to avoid this problem.....(Check out our course outline
(Hand Held Concrete Cutting Saw Course)
Cutting Poly Pipe with a Chainsaw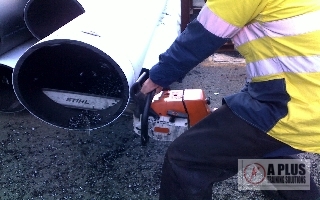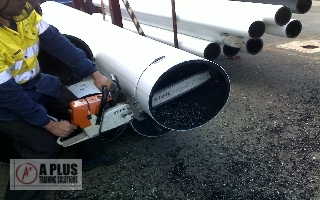 In addition to our traditional forest, arborist and council clients, a growing part of our chainsaw safety training is now being delivered to chainsaw operators cutting medium to large diameter poly pipe in the mining and irrigation industries. From this involvement, we have developed a good working knowledge of what works and what doesn't when it comes to cutting this material.
Problem 1: Chain Stretch
: To avoid contamination of the material paraffin is used instead of chain/bar oil. Paraffin has very poor lubricating qualities which leads to chain stretch as a major issue. To reduce the chain stretch it is important to use the best cutter type for the job and to ensure it is kept as sharp as possible. Square / Full Chisel chain works best as it feeds into the poly better and so requires less down force to make it cut.
Problem 2: Engine Heat Seizure:
Another problem with poly pipe is where the poly chips are drawn into the cooling system of the saw. They melt onto the hot cylinder fins, clogging them up. This can result in the saw overheating and costly engine damage. There are some simple ways to avoid this problem.....Download and print off this complete document by following this link:
(Tips for Cutting Poly Pipe with a Chainsaw")
Cut Poly Pipe with a Chainsaw Course Outline
Worksafe W.A. "Chainsaw Safety"
"
A chainsaw in untrained hands is a lethal weapon. Most injuries are deep gashes to the hands, knees, feet and head..................."
This complete document can be accessed on Worksafe WA website:
(Worksafe WA "Chainsaw Essentials")
Worksafe W.A. "Quick Cut Safety"
"
"People using concrete and masonry cutting and drilling equipment face a wide range of hazards, such as silica dust, toxic exhaust fumes, saw kick-back, blade fracture, falling walls, electrocution, vibration, noise, slips, falls and manual handling. Most at risk are operators of hand-held concrete and masonry saws. They are more prone to the violent forces unleashed when a saw blade jams inside a cut than fixed saws. These forces, commonly referred to as kick-back, push-back or pull-in, are difficult and sometimes impossible to control, and place the operator at risk of serious and potentially fatal injury ..................."
This new complete, updated 2010, document can be accessed on Worksafe WA website:
("Code of Practice CONCRETE AND MASONRY CUTTING AND DRILLING")
Quick Cut Saw Course Outline
"Ring Saw" Safety and Tips
In order to increase the depth of cut when cutting concrete, as an alternative to the standard Quick Cut Saw the Ring Saw was initially developed by Partner as the K950 Ring Saw, (and now continues as Husqvarna's K960 and K970 -Ring Saws). The advantage of the ring saw is its ability to cut much deeper than a standard cut off saw. (eg. 14" ring saw can cut to a depth of 260mm, compared to a 16" quick cut only able to cut to a depth of 150mm). In order to achieve this, ring saws utilise a unique peripheral drive system to the ring. While it works well, it cuts much slower than a conventional quick cut saw (around half as fast) , and it is prone to damage if any lateral loads are applied to the ring in use. The best way to maximise the benefits of the ring saw is to use it in conjunction with a standard 16" quick cut saw with a pre-cut blade. Use the, faster cutting, 16" disc to pre cut to 150mm depth, and then complete the cut with the slower but deeper cutting ring saw. Due to the wider cut of the ring saw you will need to use a special pre-cut quick cut blade.
Two really good videos can be accessed on the following links:
Video Clip "Partner K950 Ring Saw Operation"
Video Clip "Partner K950 Ring Saw maintenance"
Ring Saw Course Outline
"Quick Cut Saw: Diamond Blade Information"
The Concrete Drilling and Sawing Association is a US based organisation whose Code of Ethics demands that they pursue the highest standards of safety, quality and integrity for this industry. "This article will discuss the use of diamond tools, primarily saw blades, and provide recommendations for their cost-effective use."
("Diamonds Don't Wear...Or Should They?")
A great article for anyone in the concrete cutting industry. Well worth a look.
Chainsaw Operator's Manual
Forestworks in cooperation with forest and manufacturer industry experts from all over Australia have put together a very complete chainsaw safety manual covering chainsaw safety, maintenance and cross-cutting techniques. It is aligned to current AQF Units of Competency FPICOT2204B, FPICOT2206B, FPICOT2221B & FPIHAR2201B as well as Australian Standard, AS2727-1997 It can be purchased from CSIRO Publishing at:
(Chainsaw Operators Manual)
It is very good and well worth the money!Manufacturer Publications
Some really good chainsaw usage and safety material is available from the major manufacturer's (US websites mainly). (listed alphabetically)
When accessing this information remember that it will relate to US models which may vary slightly from what comes to Australia. The safety side of things should still be relevant.
Echo
has a website where you can access their chainsaw safety manuals as well as operators manuals for each model of chainsaw and quick cut. These can be accessed at:
"Echo Chainsaw Safety and Operators Manuals"
Husqvarna
incorporates chainsaw safety and maintenance instructions into their operators manuals for each model of chainsaw and quick cut. These can be accessed at:
"Husqvarna Operators Manuals"
"Chainsaw Sharpening Fact Sheet"
Oregon
produces a chainsaw safety and maintenance instruction booklet. This can be accessed at:
"Oregon Maintenance and Safety Manual"
Stihl
has a website where you can access chainsaw safety, sharpening and operators manuals for each model of chainsaw and quick cut. These can be accessed at:
"Stihl information library"
Vintage Chainsaws
If you have an interest in old chainsaws, there is a very good website that you should visit. It has a very comprehensive list of old chainsaw makes and models that make it easy to identify, date and get technical information for almost any old saw. It can be accessed at:
"Chainsaw Collectors Corner"
It is also very good!
Technical Tips
Why does my chainsaw leak oil? Most chainsaws will leak oil when they are stored. Here is why:
"Why does my chainsaw leak oil?"